Foodies ! Welcome to Fuudy !
Fuudy is a new generation food and beverage delivery platform, bringing the right restaurants the right way !
29
240 Derece
852 Hong Kong Cafe Restaurant
Adana İl Sınırı
Ahali
Akali
Alaf 2 Tek
Alaf Kuruçeşme
Aleta Smokehouse
Alexandra Cocktail Bar
Ali Ocakbaşı Gümüşsuyu
All Sports Cafe & All Sports Bakery
AllGreen
Aman da Bravo
Angelo Grande Express
Anton Bubble Tea
ANY
Apartıman Yeniköy
Araka
Astronut Kuruyemiş
Avlu Ocakbaşı
Az Çok Thai
Azur
Baby Green
Banko Burger
Basta Street Food Bar
Baylan
Beam Bakes
Bebek Koru Kahvesi
Bedri Usta Kandilli
Betty Ruso Cafe Catering
Bİ NEVİ DELİ
BigChefs Göktürk
Birebir Gastroart
Blended
Blok Mekan
Bonjuk Bay / Bonjuk Food
Borsa Adile Sultan
Bowl Department
Brasserie Polonez
Breeze Brasserie
Brekkie
Bröd
Bronco
Butterfly Chocolate
Cafe Cadde
Cantinery
Casa Cooklife
Chop't
Çok Çok Thai
Cold Stone Creamery
Coni & Co
Cup Of Joy
Cutie Cake Co.
Da Mario
Dardenia Deep Blue
Delicatessen
Dem Moda
Develi
Dine & Sandwich
Dirty Hands
Divan Delivery
Divan Pastanesi
Dondurmacci
Döner by İSKENDER
Dragon Restaurant
Dükkann
Eataly Market
Elbet Steakhouse
evdeneolokal
Eywa Sebastian
Far East By Dragon
Faros Restaurant
Fatima 1932 By Famuse
Feriye
Fiko Ocakbaşı
FINN Cocktail Mixes
Fireroom
Fomilkbar
Foo's Kitchen&Bar
Foxy Nişantaşı
Gabfoods
Gasto Street & Local Food
Gattenio Artisan Chocolate and Bakery
Geyik Coffee Roastery & Cocktail Bar
Girandola
Godiva
Goose No.25
Gram Orjin
Grandma
Grandpa
GranoLovers
Grill Polonez Kasap
Halef
Hane No.5
Happy Nest
Hartford Barista
Havandan
Healin Foods
Helga Schnitzel Haus
Hidden House Bebek
Hide
Hitomi Sushi Bar
House of B
Hub Restaurant
Hünkar
İmperia Pizza & Sandwich
Inari Omakase
İnkase
Isola
Itsumi
Juicity
Juico
Kaen Sushi
Kanaat Lokantası
Kase No.16
Kavanoz
Kebapçı İskender Kuruluş 1867
KEN Sushi&More
Kinda Burger
Kireçburnu Fırını
Kiss The Frog
Kokoa by Divan
Kombucha 2200
Köşebaşı
Kronotrop Coffee Bar & Eatery
Kruvasan
L'Breakfast by Lucca
L'Entrecôte de Paris
L'Express by Lucca
La Mensa
Leone HILLTOWN
Lo Zio Restaurant
Loco Mix by Alcoholoco
Loft Mutfak
Lokal Plants
Lokanta Kru
Maillard
Malatya Pazarı
Mangerie
Marcel Patisserie & Boulangerie
Markus Prime Ribs Society
Markus TO GO
Maromi by Divan
Marsel Delight
Masa
Mavi Balık Restaurant
Meal Box
Melez Tea Maslak
Melina Kantina
Minoa
Minval
Misk Floral Cafe
Miss Pizza
Moda Deniz Kulübü
Molino Cucina
Montag Coffee Roasters
Moretenders' Sushi & Cocktail
MR MEAT Steak&Burger
MSA BOX
Mua Gelatieri d'italia
Muutto Street Food & Meze Bar
Naked Bites
Naomi Sushi
Nappo
Neni Brasserie
Odun Pizza
Organik Pazar
Origami Kruvasan
Padre
Paper Moon
Parker Coffee Co
Parle
Pelin'in Ekmeği
Petra Roasting Co.
Piccola Pizzeria
Pizza Alto
Pizza Emirgan
Pizza Pazzi by Divan
Podisi Bean To Bar Chocolate
Pokemate
Poppin' Bubble Tea & Coffee
Primitif
Punk Sushi
Rebel Street Food
REM Kombucha
Rita Deli
Rustique Mutfak
Sade Beş Denizler
Salamura
Sanayi313
Sappa Pizza
Şayan Baklava
Selamlique Istanbul
Serafina
Set Kebap
Shang Palace
Sitron Brunch & Drinks
Smooth-e & More
Snob Street Food
Spoon Catering
Steakroom
Sunset Grill & Bar
Suppla Broth Co.
Sushi Manga Japon Mutfağı
SushiCo
Sweet Dreams
Taco Department
Taco Department Halaskargazi
Tamirane Express Quality Food
Tazelist
The Green Box
The Grungy
The Upper Crust Pizzeria
Trattoria La Scarpetta
Tulum Bites by Alexandra
TUTTİ
Twins Cocktail Lab
U-DO Restaurant Korean Asian
Urban Bread
Uzak by Apartıman Yeniköy
Vakko Bistrot
Vakko L'Atelier
Vakko Patisserie
Vakkorama Cafe
Vanessa Catering
Vanilla Rococo
Venge
Villa Emma
Wagamama
Wren & Spoon
WU Bomonti
Yada Sushi
Yakuza Asian and Sushi
Yeni Lokanta
Yeniköy Kaşıbeyaz Bosphorus
YMRT Garden
Yumbai
Yüzde Yüz
Zaaf
Zhu
Zuma
ABOUT
Your favorite restaurants
at your door !
Bring your favorite restaurants , food and beverage brands to your adress with one click, telephone or message...
DOWNLOAD APP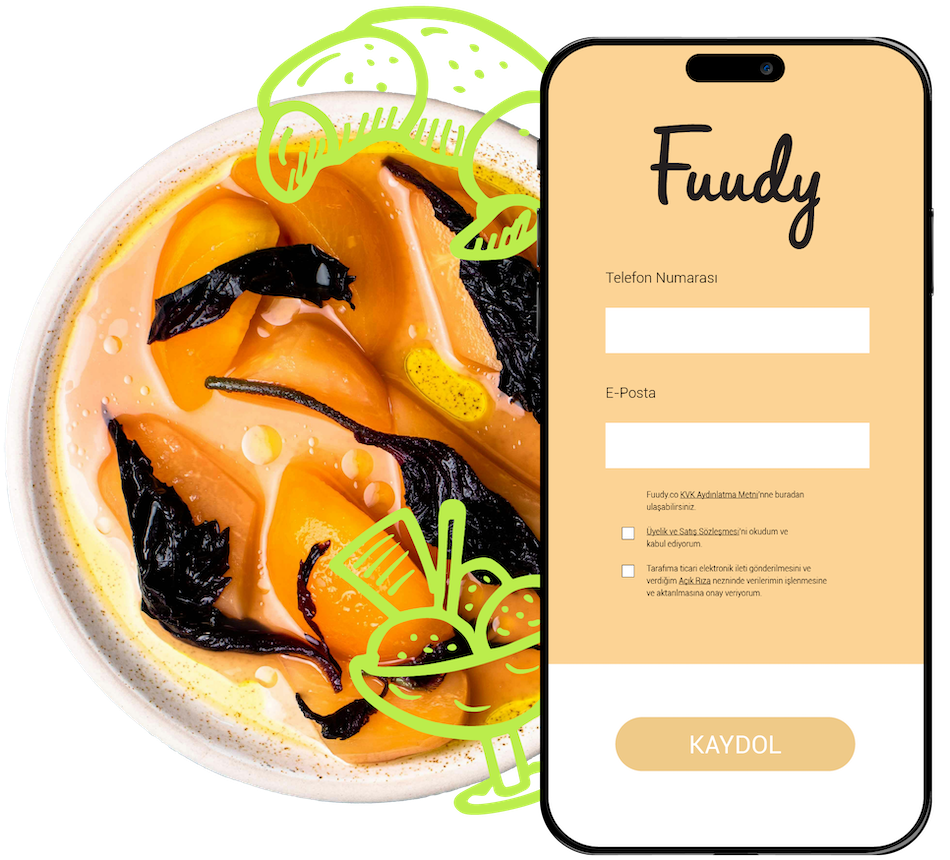 Unique Features
Easy to Navigate and Order
Simple , design conscious easy to navigate interface
Fast, convenient and secure payment options
When placing your order online; pay with logged credit card; with a credit card at the door or with cash or credit card for restaurant pickup orders.
Fuudy Concierge and Call Center
Our specialized call center & concierge service lets you order and track your delivery via what's up, telephone and more!
Advance Order and Special Delivery Options
Order a small burger or a mini party package. Our couriers bring everything the right way , with maximum care.